Aug 9, 2023
Your Boat is coming to Buckeye for Winterization/Storage...
Now that you have gotten in touch with us about your storage and winterization needs, you are well on your way to a smooth transition into the off season.
Here are some things you need to know!
---
10 Steps to Winterization and Storage:
Before we receive your unit, let's go through this checklist to ensure we're prepared.
Take personal items out of the boat and leave only the minimum safety equipment.


Bring the boat in as dry as possible.


Ensure that a single boat top is present. Where possible we recommend you keep additional canvas in your possession.


Ensure all holding tanks are empty (bilge, ballast, live-wells)


Store your boat with the smallest amount of gas possible.


Place trim in the down position


Leave keys in the ignition


Leave the battery switch in the OFF position


Pre-authorize up to $300 in safety/maintenance repairs to be completed if necessary to expedite your delivery (ie. bilge pump, battery, lights, trailer wiring, cover repair, etc)


Complete Vessel Health Check sheet.
Complete Vessel Health Check Sheet
"Vessel Health Check Sheet?" you may be asking? The Vessel Health Check Sheet will walk us through the state of your unit and clearly communicate the vessels health so we both know exactly what we're working with.
Below you will find a download to the interactive health sheet PDF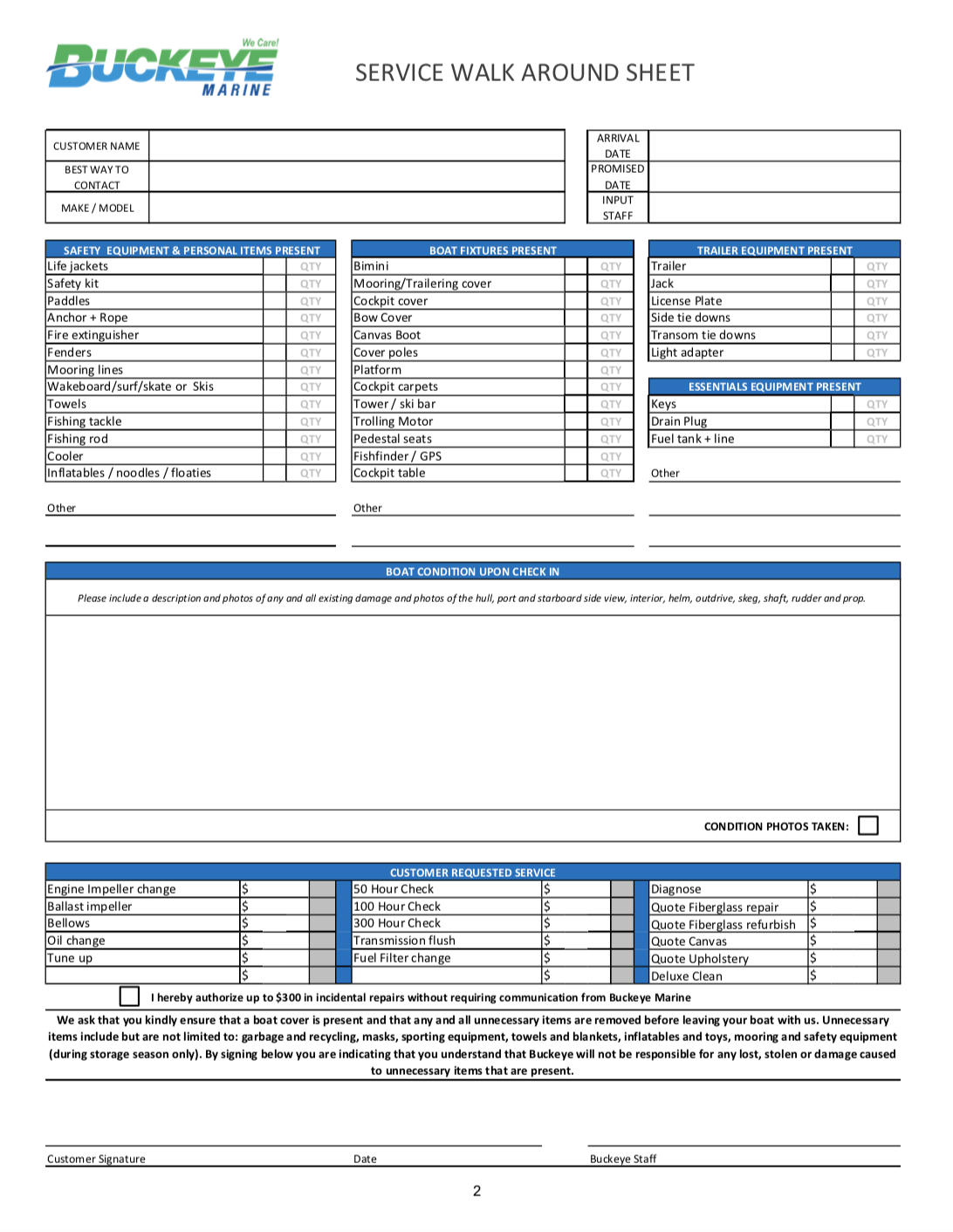 ---
Reach out for assistance?
Might you have any other questions, these extensions will be of help to you...
Text or Call (705) 738-5152 or E-mail Storage@Buckeyemarine.com
Ext. 239 - Adding winter work/ maintenance to your storage contract

Ext. 249 - Info on fibreglass, tops upholstery

Ext. 242 - Boat house winterization or winterization appointment